(trailer)
HD Video. 56 minutes. 2015. With Ale Ottenby.
Because Particles is a four episode television show about Ale, an art student on a quest to heal his art practice.
After his Professor suggests that his work needs "more energy," Ale takes this suggestion literally and develops unusual hydration methods to reactivate his creativity. Each episode both recreates and breaks apart the clichés of how artists are portrayed in cinema and television, weaving in dialog and scenes transcribed from actual art school experiences.
The episodes are presented in an immersive binge-watching environment.
EPISODE GUIDE – Installation Version
Episode 1: Dark Matter (11:05 min)
Episode 2: Uncertainty Principle (13:02 min)
Episode 3: Entanglement (14:32 min)
Episode 4: Mixed State (06:15 min)
Stills: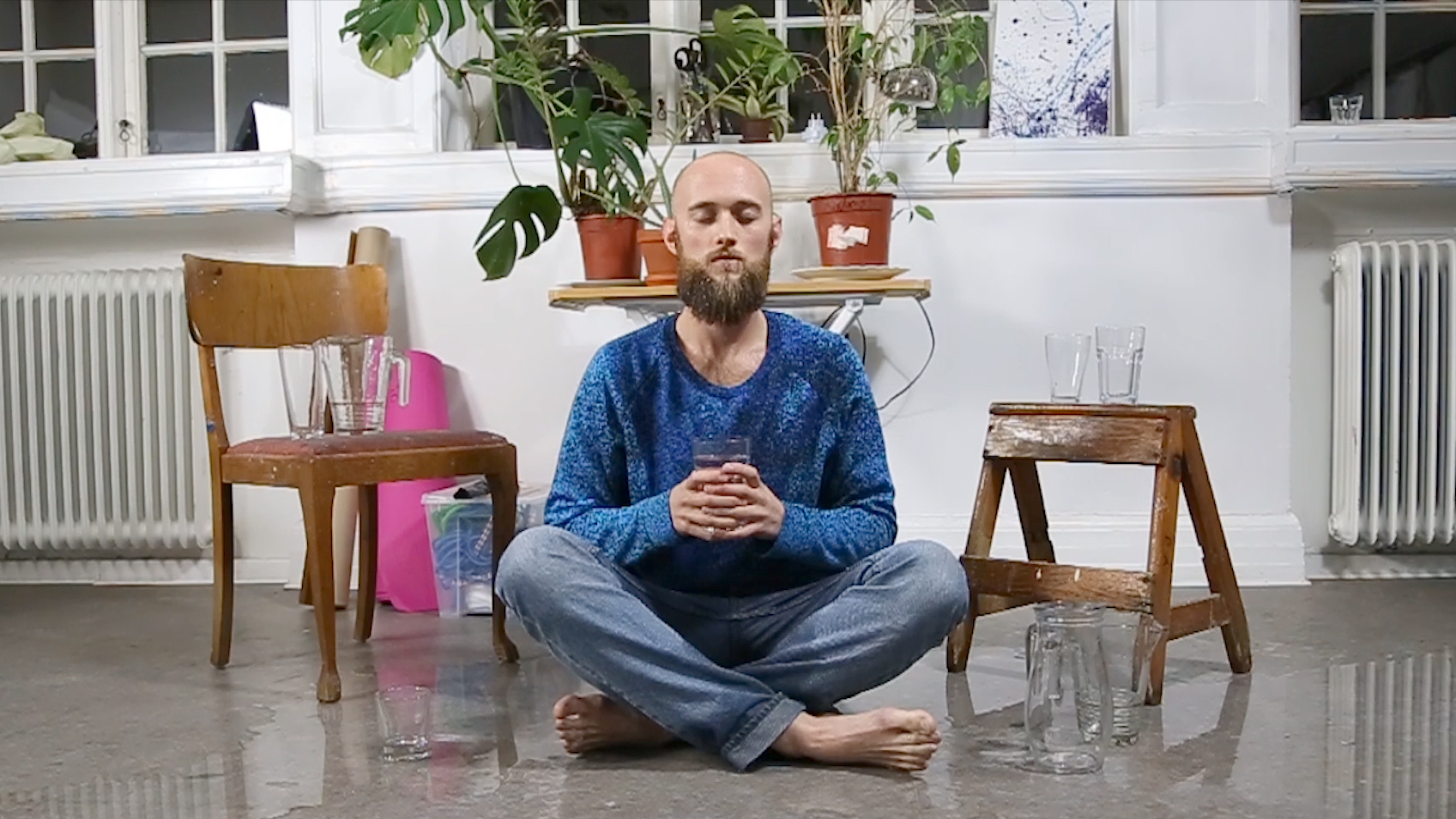 Credits:
Written and Directed by
Lily Benson
Dramaturgy/Co-Producer
Ale Ottenby
Starring
Ale Ottenby as ALE
Liv Kaastrup Vesterskov as LIV
Jerk Ohlson Westin as JERK
Malin Karlsson as MALIN
Jennifer Pettersson as JENNIFER
Simon Rodriguez Strömberg as SIMON
Music
Score: Doron Sadja
Lyrical Themes: Leslie Allison
Opening Song: Art Fact – Rain in the South
Crying Tune: Allie – This is How We Go
Originally Conceived by
Lily Benson
Jorun Jonasson
Ihra Lill Scharning
Dialog based on a script and actor improvisation
Appearances by
Harald Emgård as PROFESSOR
Patrik Book as VISITING ARTIST
Martin Bofeldt as MARTIN
Emilie Sahlen as EMILIE
Lily Benson as LILY

Story Development
Jorun Jonasson
Script Translation
Ale Ottenby
Crew
Signe Ahlsten
Markus Bråten
Marie Bonfils
Kah Bee Chow
Josefine Adde Dahl
Karin Hald Agnes
Lovisa Jonasson
Louise Kelpe
Sonya Merutka
Helena Olsson
Lea Petrikova
Doron Sadja
Rasmus Streith
Thorgerdur Thorhallsdottir
Martine Flor Thunold
Mina Vattøy
Jerk Ohlson Westin
Cameos
Karin Hald
Agnes Lovisa Jonasson
Carl-Oskar Jonsson
Mads Juel
Carolina Sandvik
Editing Assistance
Rasmus R. Streith

Party Set Decoration
Rina Lövaasen
Fruit Painting
Axel Burendahl
Lily Benson
Rasmus R. Streith
Thank You
Margot Edström
Karin Hald
Maria Hedlund
Jorun Jonasson
Joachim Koester
Ihra Lill
Sophie Ljungblom
Rina Lövaasen
"Lucy"
Nathalie Melikian
David Nilson
Oasen
Helena Olsson
Johan Österholm
Doron Sadja
Gertrud Sandqvist
Dan Setthammer
Thomas Sjögren
Ursula Sommer
Mina Vattøy
Jesper Vielby