Director of Motion
Motion Design, Sound Design
Urbit's Creative Director, Galen Wolfe-Pauly, enlisted me to help visualize and explain the inner workings of their peer-to-peer server network. Our main challenge was starting with no visual content– their product is purely conceptual; it's a pristine layer of code on top of the internet. Over the course of several months, we devised systems of graphics, movement, and sound to give Urbit's code a welcoming personality. Urbit's customers are primarily programmers and crypto-investors, with a working knowledge of cloud-based currency. For viewers outside of the tech field, some references may obscure, but we aimed for the playful and inventive qualities of Urbit to still shine through.
Freckle Goes Fluide
Writer, Director, Motion Design
From the July 2018 Press Release:
Fluide, an all genders beauty brand aimed at creating a more expansive and expressive definition of beauty, launches a new web mini series this summer, starring the one and only Freckle.
A collaborator of Grizzly Bear, an iconic presence on TBS's Search Party and Calleb Gallo and unforgettable contestant on American Idol, Freckle is a one-of-a-kind performer and muse.
A mini makeup tutorial delivered in Freckle's inimitable witty, deadpan style, each "Freckisode" is a bite-sized piece of online entertainment formerly described as a commercial. Directed by feminist filmmaker, Lily Benson, with music by Berlin-based Max Boss of EASTER, and aided by an all-queer crew, "Freckle Goes Fluide" queers the classic commercial with hilarity.
Director Lily Benson "wanted each Freckisode to capture makeup's real and genuine power — to transform, glamorize, and enable play. Without using stylists, makeup artists or post-production correction, Fluide's Freckisode aesthetic is unheard of for a makeup promotion and is totally representative of Fluide's defiance of normative beauty standards."
New episodes are released weekly, beginning 7/18/18.
Love Letter from A Daughter of the Gods
Script, Motion Design
This work was originally commissioned by CAVES Gallery in Melbourne, Australia.
In 1907, Annette Kellerman, future founder of synchronized swimming, was arrested on a beach in Boston for not wearing the skirt attachment of her full-length bathing suit. This incident later contributed to legal changes in dresscodes for American women.
In 1916, Annette Kellerman starred in A Daughter of the Gods, the first Hollywood film with a million dollar budget and to have a nude character, played by Annette. Despite the film's critical success and wide distribution, no copies remain. Film collector, Mary Ann Cade, suspects that the last remaining versions were tossed into the New York Bay after the film's studio was acquired.
For this video, it's imagined that the lost film is finally rescued from the depths of the bay. We find that while underwater, the film transformed into a love letter to its own star. Its love appears as a water ballet of words.
This video was presented at Spring Break Art Fair 2018, The Hand Gallery, and Temporary Agency.


How to Wrap with BAGGU
Direction, Motion Design
A holiday promotion for BAGGU– showcasing the versatility of their eco-conscious reusable bags.
Direction, Animation
Cinema C.O.B.R.A. was founded in an attempt to awaken the spirit of the 1940s C.O.B.R.A. art movement. It aims to free video art from its often stale surroundings– liberating it from blank walls and institutions. Cinema C.O.B.R.A. hosts video screenings in unexpected locations, where carefully selected films speculate on topics such as: animalism, hypersensitivity, the body in times of change, otherworldly adventures etc. Once in a while Cinema COBRA unleashes and wanders the streets illuminating everything and everyone, wherever a projector may reach!
A Tour of the Self Cleaning House
Writing, Animation
The Self Cleaning House is a patented invention by Francis Gabe of Newberg, Oregon, USA. The house has been widely celebrated and recognized as an accomplishment for women's role in science and as a clever method to liberate women from housework. It was even partially reconstructed in the Women's Museum in Dallas, Texas.
When I visited the prototype that Francis Gabe was still occupying in 2007, I discovered that the actual realization of the invention idea was a minor disaster. It was cluttered and hazardous, which made it difficult to believe that the home had ever been a working invention. In this video, 3D rendered environments were constructed to create the fantasy version of the Self Cleaning House as a fully functional home, based on the ideas laid out in its patent. There is an odd disparity between the importance of The Self Cleaning House as a concept, versus its condition in reality.
A few GIFs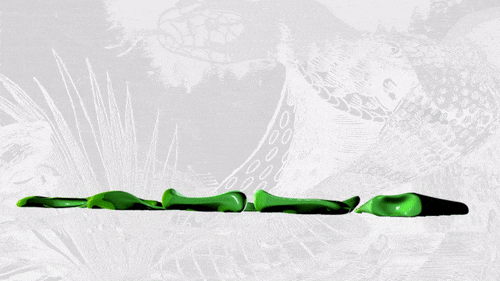 "Breathing" text, for Cinema C.O.B.R.A. digital invitations
Peer Pleasure. A 16mm + Cut Paper experiment
For the film Amazon Warriors
Contact
lily@lilybenson.com / +1 929.330.5268